The works merge music and art, nature and man-made systems. Each sculpture is actually a character who lives in digital clouds and sings an aria to their surroundings. In fact, the ode is more about their inner longing and desire, which underscores man's unilateral relationship with his environment. The three sculptures each represent a man-made system that characterizes their location: Nature in the Botanical Garden, exercise and fitness outside of World Class, and transport on sea at Skarfaklett. With the work, Sigrún Gyða examines how human intervention is necessary for us in order to have a natural experience.

Part of a series of three works spread over the large outdoor exhibition area of Hjólið 2021.
This one was located in Skarfagarðar, close to Skarfaklettur and the Viðey Ferry Terminal, Reykjavík Iceland.

Sigrún Gyða Sveinsdóttir (2021)
Composition and lyrics by Sigrún Gyða Sveinsdóttir (apart from lyrics in 64.141764, -21.870164)
Lyrics in 64.141764, -21.870164 are by Árni Hjartarson
Sound Production and mastering by Jethro Cook
Voice by Sigrún Gyða Sveinsdóttir and Hildur Elísa Jónsdóttir.
Technical assistance by Sveinn Harðarsson, Sigurbjörn Ingvarsson, Vincent Mensink and Arnór Bogason

String players in opening performance:
Móeiður Una Ingimarsdóttir violin,
Anna Soffía Hauksdóttir violin,
Hafrún Birna Björnsdóttir viola,
& Jón Pétur Snæland cello

Curated by Sunna Ástþórsdóttir
Supported by Iceland Visual Art Found, the Reykjavík Sculptor Association and the City of Reykjavík.
Thanks to World Class Iceland, Faxaflóahafnir and Grasagarðurinn.

Photographer: Hörður Sveinsson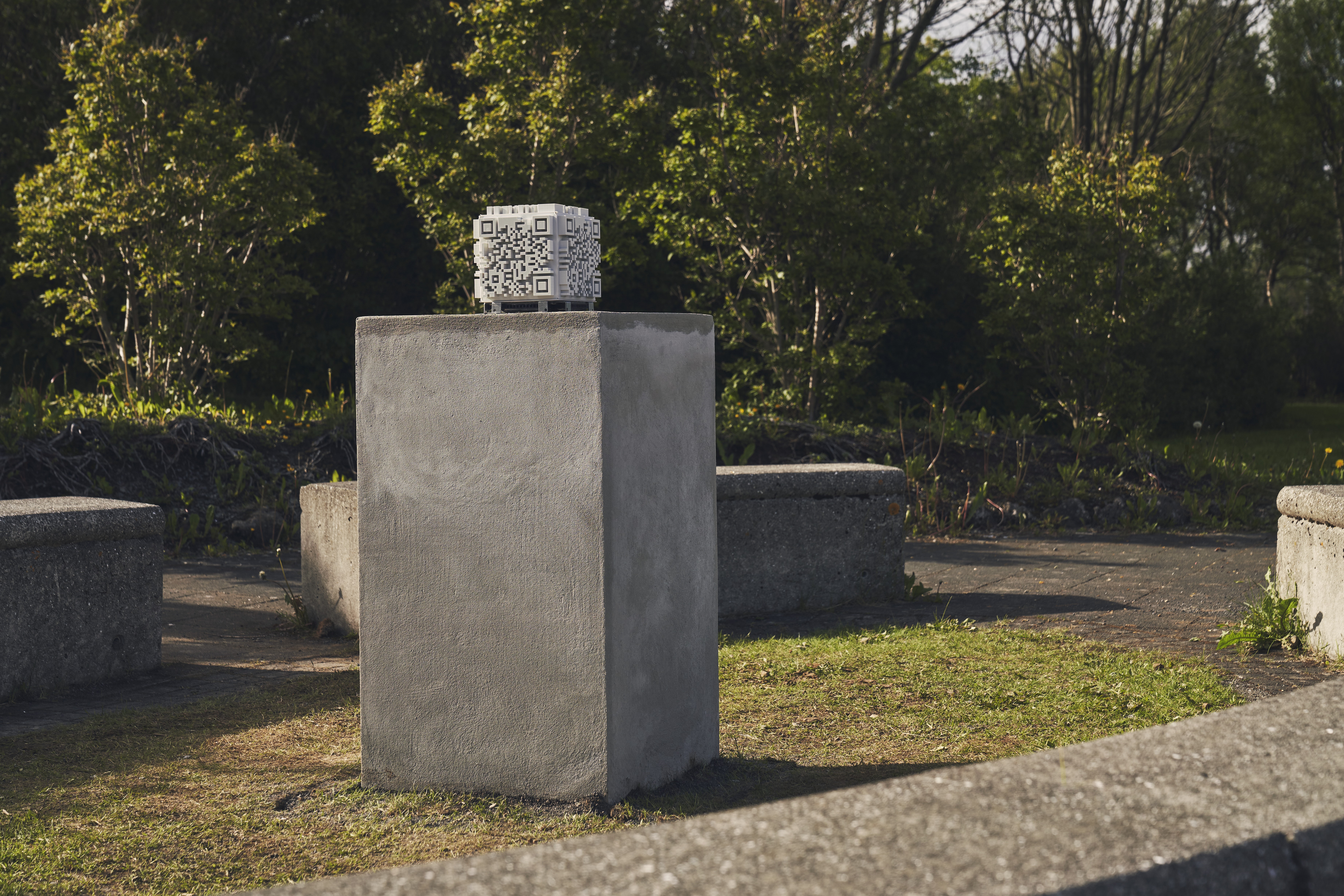 The works merge music and art, nature and man-made systems. Each sculpture is actually a character who lives in digital clouds and sings an aria to their surroundings. In fact, the ode is more about their inner longing and desire, which underscores man's unilateral relationship with his environment. The three sculptures each represent a man-made system that characterizes their location: Nature in the Botanical Garden, exercise and fitness outside of World Class, and transport on sea at Skarfaklett. With the work, Sigrún Gyða examines how human intervention is necessary for us in order to have a natural experience.

Part of a series of three works spread over the large outdoor exhibition area of Hjólið 2021.
This one is located in front of World Class Laugar.

Sigrún Gyða Sveinsdóttir (2021)
Composition and lyrics by Sigrún Gyða Sveinsdóttir (apart from lyrics in 64.141764, -21.870164)
Lyrics in 64.141764, -21.870164 are by Árni Hjartarson
Sound Production and mastering by Jethro Cook
Voice by Sigrún Gyða Sveinsdóttir and Hildur Elísa Jónsdóttir.
Technical assistance by Sveinn Harðarsson, Sigurbjörn Ingvarsson, Vincent Mensink and Arnór Bogason

String players in opening performance:
Móeiður Una Ingimarsdóttir violin,
Anna Soffía Hauksdóttir violin,
Hafrún Birna Björnsdóttir viola,
& Jón Pétur Snæland cello

Curated by Sunna Ástþórsdóttir
Supported by Iceland Visual Art Found, the Reykjavík Sculptor Association and the City of Reykjavík.
Thanks to World Class Iceland, Faxaflóahafnir and Grasagarðurinn.

Photographer: Hörður Sveinsson


The works merge music and art, nature and man-made systems. Each sculpture is actually a character who lives in digital clouds and sings an aria to their surroundings. In fact, the ode is more about their inner longing and desire, which underscores man's unilateral relationship with his environment. The three sculptures each represent a man-made system that characterizes their location: Nature in the Botanical Garden, exercise and fitness outside of World Class, and transport on sea at Skarfaklett. With the work, Sigrún Gyða examines how human intervention is necessary for us in order to have a natural experience.

Part of a series of three works spread over the large outdoor exhibition area of Hjólið 2021.
This one is located in Grasagarður Botanical Garden.

Sigrún Gyða Sveinsdóttir (2021)
Composition and lyrics by Sigrún Gyða Sveinsdóttir (apart from lyrics in 64.141764, -21.870164)
Lyrics in 64.141764, -21.870164 are by Árni Hjartarson
Sound Production and mastering by Jethro Cook
Voice by Sigrún Gyða Sveinsdóttir and Hildur Elísa Jónsdóttir.
Technical assistance by Sveinn Harðarsson, Sigurbjörn Ingvarsson, Vincent Mensink and Arnór Bogason

String players in opening performance:
Móeiður Una Ingimarsdóttir violin,
Anna Soffía Hauksdóttir violin,
Hafrún Birna Björnsdóttir viola,
& Jón Pétur Snæland cello

Curated by Sunna Ástþórsdóttir
Supported by Iceland Visual Art Found, the Reykjavík Sculptor Association and the City of Reykjavík.
Thanks to World Class Iceland, Faxaflóahafnir and Grasagarðurinn.

Photographer: Hörður Sveinsson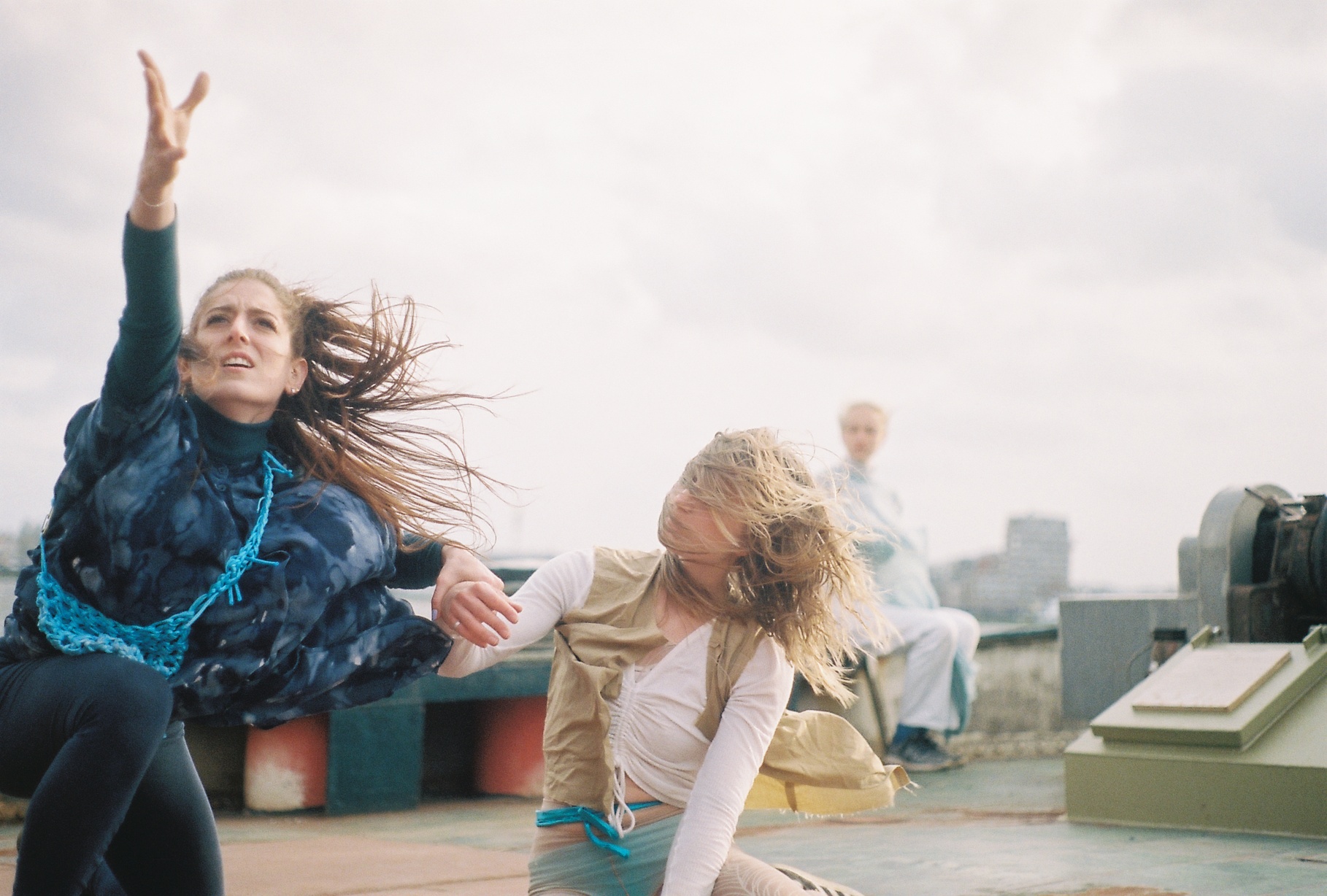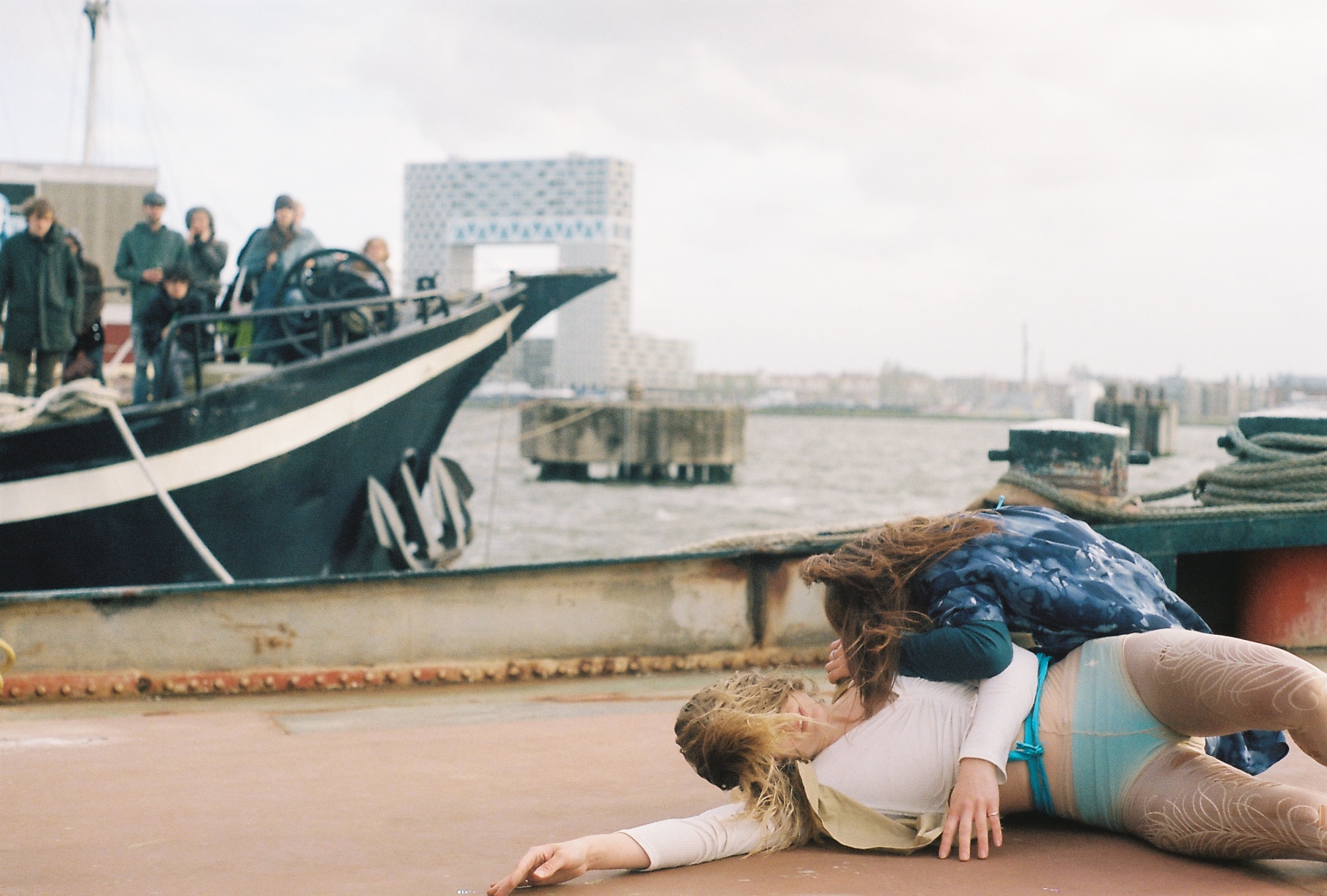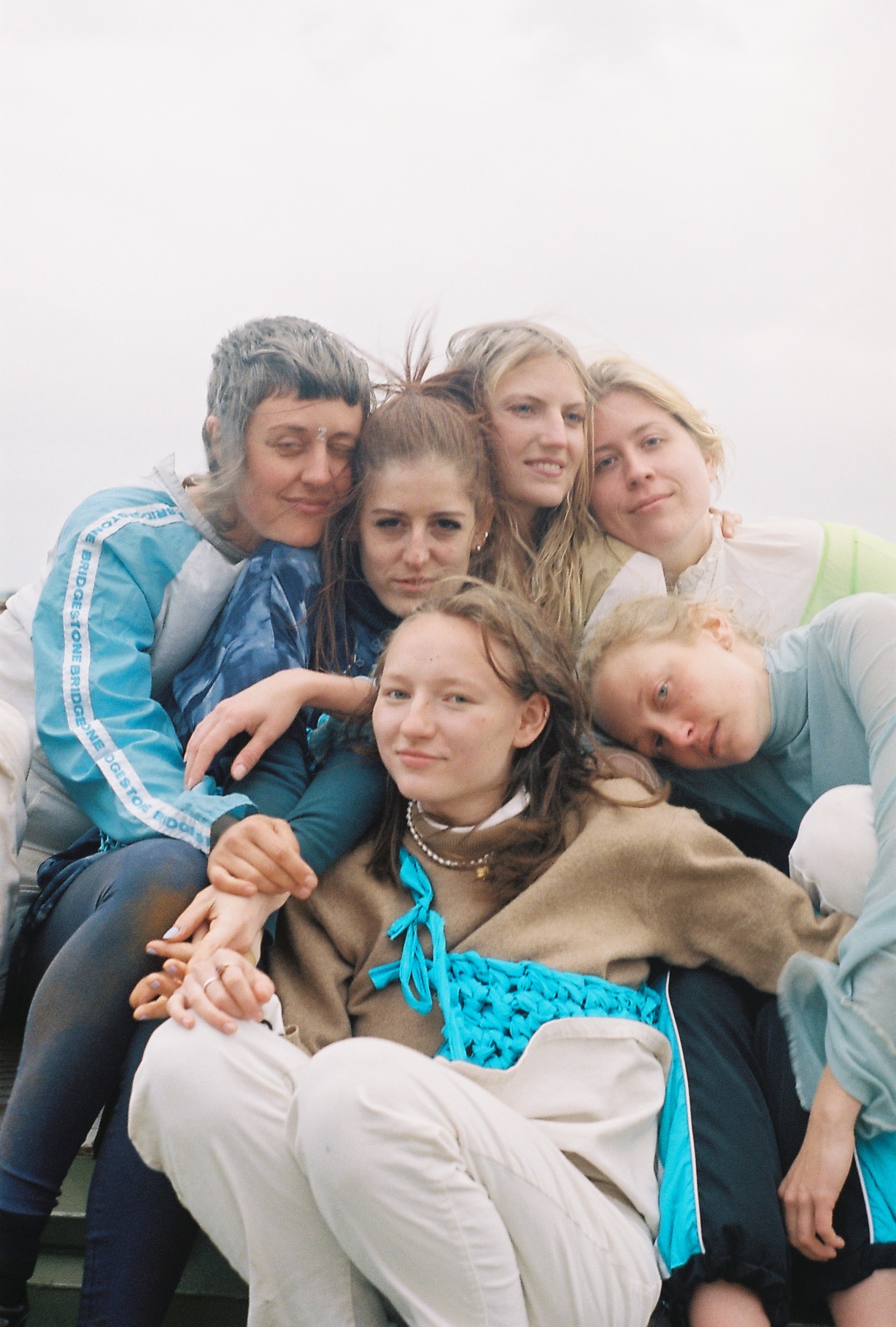 But Now I'm underwater

Performance by SIRENS (50:00)
May 2021 at the Salamandar in Amsterdam

Directed by Sigrún Gyða Sveinsdóttir and Sabrina Schlosser
Concept by Sigrún Gyða Sveinsdóttir and Sabrina Schlosser and SIRENS
Movements by Sabrina Schlosser
Soundscape by Sigrún Gyða Sveinsdóttir (SOUNDCLOUD)
Songs by Sigrún Gyða Sveinsdóttir, Marta Gawron, Sabrina Schlosser and Billie Eilish
Outfits by Amanda Bellman
Text by George Mazari

SIRENS:
Valentine Hhevad Langeard
Paola Ancoda
Maya Kuznetsova
Marta Gawron
Sabrina Schlosser
Sigrún Gyða Sveinsdóttir

We are here, we are there, we are nowhere. We are connected to everyone and we are connected to no one. The sea carries waves of all kinds. Water from continent to continent, from place to place. Rivers are the veins of the sea, creating a network of substance where life and history of the Earth are in constant motion. We live in the age of a global and networked digital world. A world in which we encounter space and place through virtual bodies. We can see and interact with everyone from anywhere at any time. It re-renders our experience with each other. Places become generic. We are generic. Everything is generic. Nothing is generic

Big thank you to Huib Koel, Esther Way, Javier, Sam Koel and David Koel for making this possible.

Photogapher: Jaxson Power -Thornton




Four 15 second videos and three textile carpets.

at Fokhelt, Ísafjörður, Iceland, 2020

I wonder if I can link the image of the fast melting glaciers to the image on social media that disappears after 24 hours. An image that disappears and stays with you only as a memory. A memory you don't want to forget. 24 hours is a lot when it comes to an image of a party you went to yesterday although it's not a lot when it comes to a reversed ice age.

"I found myself using social media much more than before. I frequently checked the news and spent more time at home and therefore used my phone more as entertainment. I even put in my schedule social media/news-less hours and kept myself occupied by knitting and running in nature instead. First, I didn't notice the advertisements on Instagram that much, I just skipped over it, occasionally I took screenshot if it was trying to sell me a silly object. Then one day I realized that the variety of ads was much more. There where ads from musicians, painters and local shops and the images had also changed. They had become more personal somehow and had better design quality. At the same time, I had also been looking into how nature is seen on social media and the connectio many Icelandic (mostly) entrepreneurs have with nature through advertisements and found tha they portrayed themselves in sublime nature in clothes from the biggest outdoor clothes brand or in front of a cabin they got to stay in for sharing the experience with their followers".